Summation
A very strong feature of this phone is its display. The 176x220 resolution screen with 65,536 colors is a very neat addition, the quality is nothing less than on your computer display. The colors are rich and the screen size is very comfortable for the eyes. It's a pleasure browsing around the phone book or writing your daily SMS messages.
The marketing behind the V400 is its world phone claim. Instead of the usual Tri-Mode on the rest of its competition or even the V60, this product is a quad phone featuring 1900MHz, 1800MHz, 900MHz and the 800MHz frequencies making it the most extensive GSM coverage world wide mobile phone.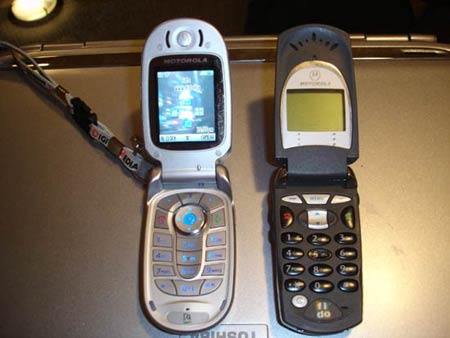 A negative side from its V60 contender was the lack of a speaker phone. While it's not an important feature for most people, a lot of us use it on daily basis. I wasn't really using it until I received the Ericsson P800 and P900. Since these days a hands free speaker on a phone is a must for me, especially in the car. The V400 features a pretty descent speaker phone, while I found the volume to be acceptable I would have preferred to hear it louder. Perhaps that could be fixed in the upcoming V400 versions.
A very important feature on today's cell phones is its battery capacity. Using the Ericsson P900 for sometime its hard to find a phone that can beat its extensive talk time, battery life is simply outstanding on the Ericsson P line and is pretty much one of the best on the market. Motorola claims up to 6 hours of talk time with V400. Of course claims on product boxes are not always real and it's the case with the V400. We managed to squeeze a good 4 hours of full talk time with the phone, still not bad but not quite as it would be with 6 hours. The claimed standby time is 8 days; while we didn't perform this test I could see this claim to be somewhat more realistic.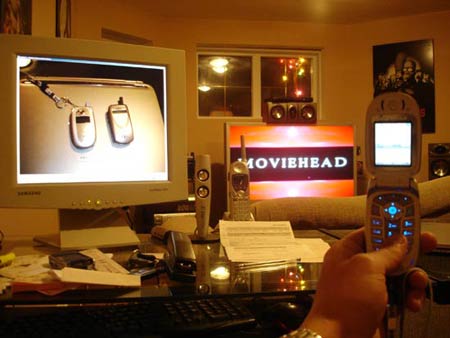 A view of the V400 along with a 19" LCD and 52" DLP TV
Another negative side of its contender was the lack of features. While the first V60 phones had absolutely no applications such as an alarm or calculator, Motorola went along and added some feature to the V60 later on. I'm happy to say that the V400 comes with pretty much all the necessary options for any user. Features include Picture Messaging MMS, JAVA enabled, Personal Information Manager, Access to AOL instant manager, Polyphonic ring tones (MP3 quality), Games, Alarm Clock, Calculator and a good calendar. You can also download different applications, games, ring tones, etc from the net, the variety is quite large.
Other features include GPRS support for data transmissions and mobile internet WAP and in addition the V400 can be used as an external modem for your laptop with the purchase of an additional adapter. The biggest disappointment on this phone was the lack of an infra red connection. With an infra red the V400 could have been used as modem on any laptop without any extra purchases, but then again I assume they want us to spend the extra buck to take advantage of those features. A less disappointing fact on this phone is the lack of Bluetooth. Most of us won't that Bluetooth is as a must I would have preferred to see at least one wireless connection on this product. An optional Bluetooth adapter is available for purchase.
Summation

Being a heavy cell phone user here at Target PC, I'm always looking for the best cell phones on the market. With my crush on the V60, I feel very comfortable switching to the V400. With its very reputable sound quality, just like on its V60 contender I wouldn't have a single problem recommending this phone. If you are a traveler looking for extensive coverage and are in the look for a top of the line phone do take a closer look on the V400. We love it.
9/10
Oleg Mitskaniouk
04.12.25