The layout
†
The size of the P4ISR PCB is smaller by 0.55Ē to the previously reviewed DFI NB72 845 board. Fortunately being smaller in size doesnít mean itís smaller in features. The P4ISR offers maximal expansion for an 845 solution; six PCI slots, 1 CNR and three DIMM slots for memory expansion up to 3GB of ram. In addition to the features you would expect from the 845 chipset, the P4ISR features hardware RAID support via the Promise chip located at the top of the fourth PCI slot. The Promise RAID controller only supports a maximum of a 64KB stripe size. Soyo has another version of the P4ISR without onboard RAID.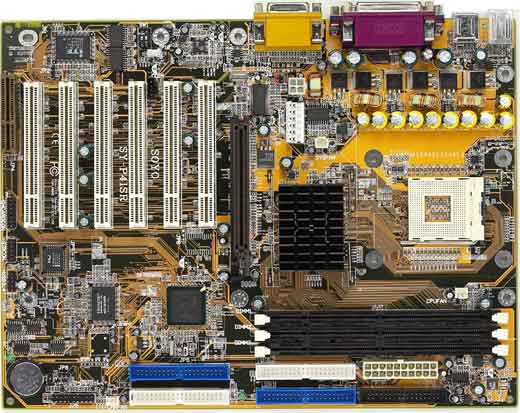 The main IDE connectors for the hard drives and the FDD connector for the floppy are comfortably located at the top of the DIMM slots resulting in cleaner PCB design. Soyo made a good move with their decision of the placement of the IDE RAID connectors; they are placed horizontally behind the first three PCI slots. Our previous 845 SDRAM review from DFI had the RAID slots placed vertically which resulted in unpleasant experiences with the IDE cables when large PCI cards were in use.

Soyo like several other manufacturers decided to take advantage of the implanted AC'97 sound present on the ICH2. This particular codec is very similar to the Sound-Blaster 16 card and should satisfy most users. However, if you own a quality surround speaker set and are playing a lot of games featuring multi channel support, you would be better off with a normal high-end audio card such as the Creative Sound Blaster Live. †

Three fan connectors are available on the P4ISR. The CPU fan connector is located between the processor socket and the first DIMM slot. The two others are located at the bottom; the chasing fan connector is placed below the first RAID connector and the system fan connector is located below the removable bios chip. You can disable some of the onboard features via jumpers or dipswitch. A dipswitch is available for enabling/disabling the onboard AC97 sound, a jumper for enabling/disabling CNR MR Card- CODEC option and at last a jumper is present to enable or disable the onboard RAID.

A design flaw we have found on the P4ISR is the interference between the memory banks and the video card. This little issue has been noticed on several of today motherboards and generally requires removing the video card in order to upgrade the memory.