Installation and Setup
I recommend in any networking project that you install your NIC cards first. If you are going to have resource problems or detection problems with any computer I think its better to find that out right off the bat before you get too involved hooking up your hub/router and running all the wiring. I reused the FA310TX network cards that came with the Netgear DB104 Network Starter Kit. I think these are the best NIC cards I've come across in a long time. I mention this because many of the problems experienced during a networking install can be traced back to the NIC cards. I've also found some incompatibility issues between certain NICs and motherboards. These NIC cards have more than just the standard Link and Activity lights; there are five LED's on these cards. Talk about information overload, but that's really a good idea. Having to troubleshoot your install? Why not look behind the computer at the NIC card and decipher what all those LED's are trying to tell you about the status of your network? With such good NIC cards available I'm assured that any problems I could experience were with the router and not elsewhere in my setup. If you are going to be purchasing NIC cards to go with this router I highly recommend the FA310TX units. Did I mention that they are blue? Who wouldn't like that?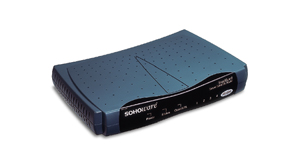 The actual install of the SOHOware BroadGuard unit was very easy. For first time installers there is a handy easy install sheet that is packed with the unit that will show you where to make all your connections. To make things even easier all the rear connections are clearly labeled. That makes setting up the actual connections very simple and straight forward.
Another thing I always look for with networking components is the included manual. It is my opinion that these components should be as easy to install for the first time network installer as well as the seasoned network troubleshooter. The initial install is also covered in the manual. The directions take you from the initial connections of the cables all the way through the software installation and configuration of the TCP/IP protocol. What is especially nice about this manual is that it is packed with screen shots from within the browser interface and Windows networking setup. That is the best way to make it easy for a networking beginner in my opinion.