External Features

The design of this product has been handled quite adequately as well. The cover is made of plastic painted with a stainless steel effect along with a chrome molding giving it a more solid and serious look.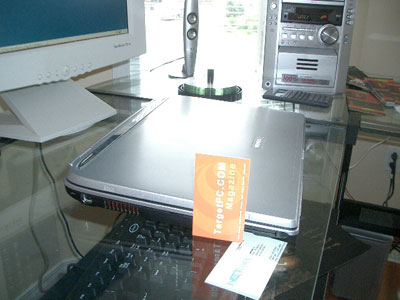 On the keyboard part you'll find two round Harman Kardon stereo speakers. Going a bit lower to the right you'll find the Toshiba shortcuts. The shortcuts consist of three customizable buttons giving you an easier access to launch selected applications. Just a bit higher you notice four LED buttons displaying different statuses such as the power, HD, CPU and wireless connection. Going lower more to the middle you spot the touch pad. The touch pad is somewhat basic. It consists of the main touch area along with two buttons; I was a bit disappointed not finding a scroller.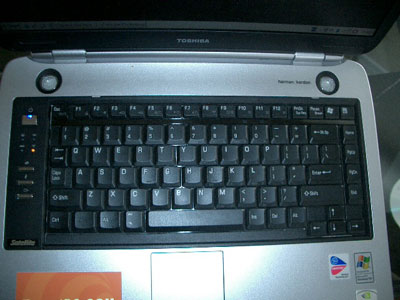 The left side has the s-video out port fallowed by the parallel port hidden with a plastic door. You'll also notice a fire wire connection along the PCMCIA port. In addition the M30 features an MMC card reader on the very end.

The right side hosts three USB ports, the CDRW/DVD combo drive along with the two audio 2.5mm jacks; one for connecting your headphones and the other for an extra microphone. On the back you hit upon the VGA output for connecting your monitor along with the Ethernet, modem and AC jack on the right end.

The front unit hosts all the main external controls. A complete CD player controller is available with controls just like on a normal CD player. A bit lower the audio controls a wireless switch is present. As we mentioned in our past reviews the wireless switch gives you the choice of turning on or off your wireless connection at any given time. An infra-red module is available right below. Continuing next you see the main volume scroller along with three LEDs displaying the power statuses of the system.
Summation



We found the M30 series to be quite an interesting solution. Not only cause of its extensive list of features but also because of its slim size. The GeForce GO FX built in card coupled with its wide screen makes this your best choice for a complete multimedia system on the go. On our last laptop reviews we we're classifying them into different sections or should I say different uses; however with the M30 series it is hard to put it in one of these categories just because we believe it would match any type of environment. If you on the verge of buying a new laptop, don't miss out the Toshiba M30 Series. We love it!
9/10
Melanie Hachey
04.10.20