Microsolutions RoadStor Combo drive
I've been writing reviews since the very beginning here at Target PC, its just funny how sometime some product reviews can be really interesting to work with and some seem to take forever to finish. I guess that depends of every editor's taste around the office. While we all enjoy testing out the latest hardware equipment requiring serious benchmarking and testing, we can't hide our young side when it comes to gadgets. We simply can't get enough of them! With new products on the market on regular basis, you simply can't get bored covering them. Small, big, black, yellow, I just enjoy testing out the latest technology. And guess what, taking a closer look at our audience statistics, so do you! In this article we are covering the new Microsolutions RoadStor combo drive. Is this a gadget or useful solution for the traveler? Let's find out.
The product
Firstly, I would like to point out that we received this product over 2 months ago and the review was scheduled to appear in early October, however with our recent moving to our improved offices we had to put some hold backs and get organized in the new space. Upon receiving this product I was expecting some kind of a tweaked out DVD player / CD writer drive but upon opening the box I got into asking my self questions. The unit comes packed in its own custom carrying case. Weighting a good 550g without the battery, measuring 1.4"(h)x5.4"(w)x6.7" and along with its clean satin silver look certainly gives this product a solid look.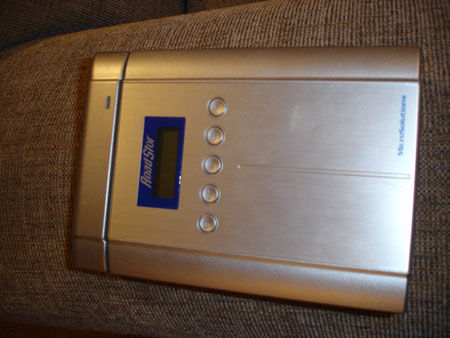 The RoadStor is a multi-solution product offering some interesting features that combines several products into one. For the computer the RoadStor acts as an external computer CD player, DVD Player, CD Writer/Rewriter and flash memory reader. But in addition to being a computer based product, the RoadStor is at the same time a traveler's best friend with its possibility of being a portable CD player or even a home based DVD player for your living room, and all of this without the need of a computer.
Firstly the CD writer is rated at 4X – 24X and the rewriter as well stands at 4X – 24X with a 90ms access time. The DVD is at 8X with a 110ms average access time supporting the reading of DVD data discs. The supported flash media includes smart media (SM), secure digital (SD), multimedia card (MMC), Memory Stick (MS), compact flash 1 and 2 (CF I/II), micro drive (MD) and at last Xd (Extreme Digital) with adapter. The writer spots a buffer underrun protection support for superior multitasking. The whole architecture operates under the fast USB 2.0 version that can pull up to 11MB per second. The unit is fully plug and play eliminating the need to install any kind of drivers, simply attach the unit to your computer via the included USB cable and you are set. The RoadStor supports Windows 98, ME, 2000 SP3, XP and Mac OS 10.1.3+.
With its included rechargeable battery it can immediately transform it self into a portable CD/MP3 player. In addition you can also stick your digital camera's memory card and burn all the pictures on a CD on the road without any need of a computer, quite an ground-breaking feature considering that you can keep adding more data to it thanks to its multi-session support. In addition the built in program lets you zoom, rotate and create thumbnails of your digital photos. Paired along with its included remote control, you can use the product as a stand alone TV DVD player for movies, create photo discs and play them as slideshows on the TV or even use it along your audio system to play MP3 files, solutions are endless.
The main top of the unit features an LCD display for all the statuses along with full audio/video control buttons, left hosts a power on/off switch and the right all the essential outputs. Microsolutions bundled all the necessary cables enabling you to use the video output through s-video or standard composite connections.

Audio is offered only under composite support (stereo). I would have loved to see at least one kind of a digital audio output in order to squeeze some superior audio results when connected to an amplifier.

Continuing with the connections on the right side you find the AC adapter connector along with a PAL/NTSC switch. The front side hosts the drive along with all the flash media slots. When you plan to use the RoadStor on the road, simply pop in the battery at the back of the unit and you're set to go.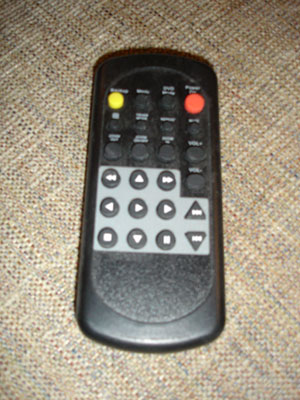 Summation

Feature wise this unit is simply an outstanding gadget. While we thought this would be a simple combo drive for your computer, we discovered it to be a strong and rich road companion. For the heavy digital camera users it could create wonders organizing your photo CDs and most importantly not facing unwanted obstacles such us finding out that your memory card is full; simply empty it out on a CD as you go. For intense travelers you can enjoy DVD movies in your hotel room or simply listen to your CD / MP3 collection while on the plane. We found the RoadStor to be a very innovative product and recommend taking a closer look at it if any of the mentioned points above are of your interest.
9/10
Oleg Mitskaniouk
04.12.31