Samsung 52" HDTV Projection TV
It's been quite a while since we last got the chance to work with a Samsung product for review. Not that we cut contact with them but sometime working with several dozens of PR agencies at the same time can stretch the review dates by some moderate time. For our regular readers, you might remember our intense Samsung reviews pretty much on their full product line; everything starting from MP3 players going all the way to the most advanced computer LCD displays. Because we we're focusing Target PC mostly towards computer technology, I still remember refusing several offers from electronics companies to review their latest products for the home/office.
With the recent introduction of the new Target PC.COM a few months ago, we are growing into opening a new market in order to cover most of today latest technology. If you have been fallowing our previous articles you most probably noticed that we started covering mobile phones and several electronic products. With the positive feedback from all of you, that scene will expand in early 2005. In this article we are continuing our journey by bringing you a review of the new Samsung HC-P5241W 52" HDTV projection TV.
The Product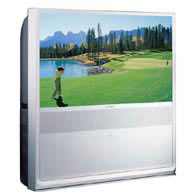 Samsung
Approx. USD $1100
The product
With our past experiences with Samsung equipment we've always seen them as reliable brand. Our past reviews have spoken for themselves; value wise you always end up getting what you pay for. We we're quite amazed upon receiving the big box by UPS. We are mostly used on getting average sized parcels, however this one definitely made some noise around the office, everybody was asking themselves the same question, what's inside.
Currently we use a SONY 53" non wide screen TV as a test product for most of our video reviews. We we're using it since the very beginning of 2001 and to be honest we're more than satisfied. Upon opening the box I was quite overwhelmed finding out this monster 52" screen. It looks big. The 52" wide screen is impressive but at the same time the whole architecture of the product is quite big as well. The body it self is somewhat large in depth.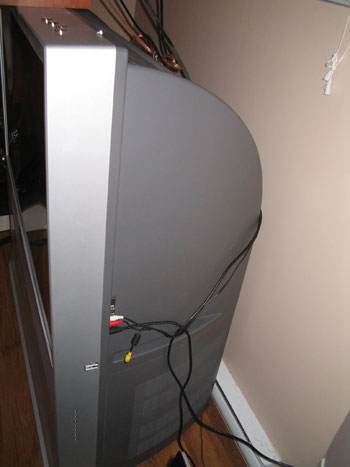 Of course we weren't expecting a plasma profile but at least I was expectant to see the P5241W to be slimmer. The depth of the product is 23.5 inches. The height stands at 50.2 inches and the width is at 48.3. Weight is 124 lbs precise which is much lighter than the 53" screen that stands at 152 lbs.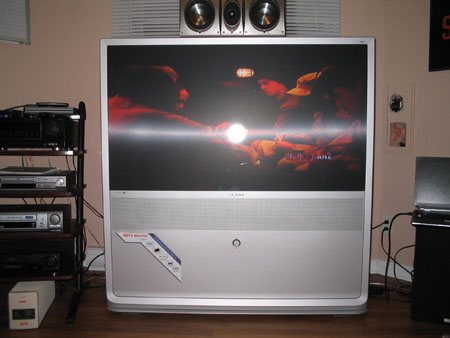 The design has been well taken care of. The unit comes with a nice satin silver finish giving it that clean professional look. On the front you notice a large speaker grill covering the whole upper horizontal area. And last a big power button right in the middle. Nothing more or less is present. Instead of fallowing the same design principals as most TV makers, Samsung opted for something different. All the control buttons are nicely placed on the right side of the screen. Different, yet innovative. The right side holds the 7 buttons along with an audio/video input for connecting your external equipment such as a camcorder or gaming console. The 7 buttons include a source option for changing your video inputs, menu for the menu access, channel up and down, volume up and down and an enter button that gets quite handy for controlling the menu. The external video/audio input features the traditional component connectors along with an s-video port.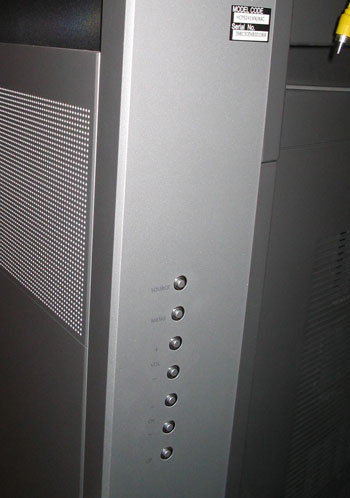 Going at the back you find a composite video/audio output, two composite audio/video inputs and at last two component (480i/480p/1080i) inputs. I was very disappointed to find the lack of s-video inputs on the back panel; this will unfortunately limit people with basic equipment such as a satellite receiver to use the standard video composite input instead of the optimal s-video connection.