The onboard stereo speakers definitely sound good compared to some other products on the market; their placement is quite good too considering it points right in front of you resulting in a richer audio experience.
The built in camera is a feature that highlights this product from other systems, taking off the need of carrying an external web cam, and this will be without any doubt a very handy feature for some people using video conferencing on a regular basis. Quite a creative and smart move from CICERO. While most of us won't really use it, it is a cool marketing feature by CICERO. The camera implantation is a pretty inexpensive one and will end up attracting a lot of people when displayed in stores with a live video feed. It got me!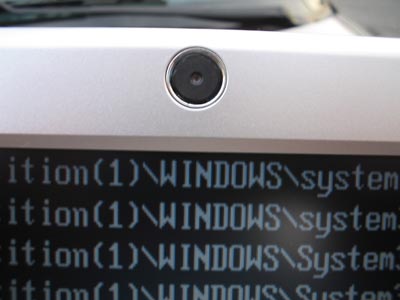 The 120C comes pretty well equipped for as an on road companion. The video is powered by the Intel Extreme Graphics 2M video card, not the top but definitely a good mobile solution. The Ethernet is powered by the Realtek RTL8139 chip. The Wireless connection is supplied from the Intel PRO Wireless 2200BG and last but not least a SmartLink 56K V90 modem is present.

The 12.1" XGA screen is pretty crisp and clear at its top resolution of 1024x768. The battery life of the 120C is decent, while I would have expected about 3 – 4 hours of life, the battery test did two and half hours playing a DVD movie, I would estimate another 30 minutes extra without using the DVD drive or Wireless connection.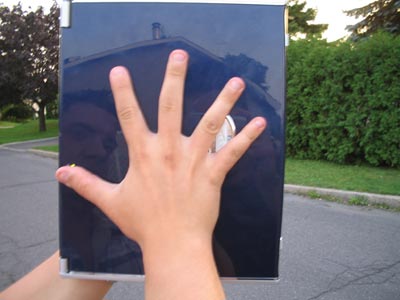 In the package you find the charger, the essential restore system restore CDs and as an addition Cicero included a handy leather carrying case, while not real letter it definitely looks good.

Summation

I found the Cicero to be a pretty interesting laptop, especially considering its price. The unit itself comes with good features such as the DVD Drive/CDRW combo, wireless network and the built in cam is without a doubt a cool and unique addition.

I was a bit disappointed of lack of any external volume controls on the unit itself or a video output, but then again not everybody will require these. For my field of work they weren't much of a big deal. All in all, this notebook is quite an excellent compact product and should definitely be an interesting solution for any traveler seeking for a small and sleek laptop.

Oleg Mitskaniouk
11.09.04