V7 is the exclusive house brand of Ingram Micro, one of world's leading technology distribution company targeted towards cost effective computer accessories and supplies to value added resellers and integrators. V7 products includes keyboards, mice, notebook carrying cases, cables, notebook batteries, monitor stands and much more. The V7 brand itself emerged as a global brand in 2006 after a decade of growth in the European market. They are currently doing very well in the North American, Latin American and Asian Pacific regions.
We recently received samples of V7's latest mounts for TV's, Monitors and projectors that we will be featuring in this overiew.

Universal ceiling projector mount PM1U40

The V7 PM1U40 is a universal ceiling mount kit that fits most small to large up to 40 lbs projectors. The PM1U40 features adjustable tilt and pitch in addition to its adjustable legs that allow up to 19.8" of diagonal play for precise positioning and post installation tweaking.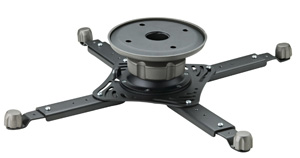 The unit comes in black only, while it shouldn't be a setback for most, I would have loved to see a white version available as well. In our case, our test projector is of white color mounted on a off white ceiling in our living room, the end result is esthetically acceptable, however due the color deferential attracts a little too much attention to the mount.
The product comes bundled with a complete hardware kit that should speed up the installation part for most users. In our scenario the setup took a little over an hour. Required tools included a drill, level, hammer, pencil mark, Philips screw driver and the included allen wrench.
It's important to note that if required, extension pipes are available as an option in 12", 18" and 24" sizes allowing to extend the original height from ceiling and enable cable management. Depending of your setup, we would have preferred to see a 12" extension pipe bundled as standard in the bundle.
Overall, the built quality of this mount is very tough and by far superior to most competing products in the 100$ and even 150$ price range. With some searching, the PM1U40 projector mount can be found online for as low as 60$. Great buy!

Double-arm Desktop monitor mount DS1DA
The DS1DA is double-arm desktop monitor mount designed for easy height adjustments and 360 degree rotation capabilities. The DS1DA allows you to tilt from -5 degrees to +20 degrees, pan and swivel the monitor for maximum viewing.

The product fits most 13" to 26" monitors and supports up to 30 lbs. Its designed to be mounted on the edge of a desk and is Vesa compliant: 75x75 and 100x100.
The built quality doesn't disappoint as well, the product feels very strong. We we've very satisfied with this, its very simple to install and enhances maximal functionality and viewing for any type of environment.
I can also add that the installed product looks great! I loved it so much that I kept it on my workstation. With some browsing we found the DS1DA for as low as 60$, another great value buy!
Flat panel TV/Monitor wall mount CL1SA30
The CL1SA30 is a flexible flat panel monitor wall mount allowing users the ability to tilt from -5 degrees to +15 degrees, pan and swivel flat panel TV's and/or monitors with full positioning flexibility.
The CL1SA30 fits most screens up to 26" inch weighting up to 30 lbs, however after the installation process we can easily confirm that if the unit is properly installed on a wood stud it can support heavier weights.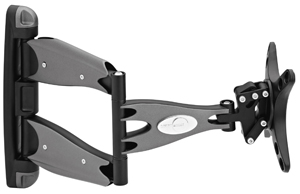 In addition to its full flexibility, the unit allows the TV to be extended up to 14" from the wall itself. The CL1SA30 is constructed with die cast aluminum and a I-beam arm design along its 4 link tilt mechanism for unforced moving and utmost support and strength. Installation was very straight forward and took less than one hour, as always locating the wood stud is the vital step.
The unit comes with a full mounting kit along an installation template for fast and accurate mounting. Once installed, CL1SA30 gives you the ability to level the screen according to your needs and even rotate it for portrait or landscape orientation. We found the CL1SA30 for as low as 55$ at some online retailers. Great buy and value for under 60$.

Large Tilt / Fixed wall mount WM1T175

The WM1T175 is a low profile mount supporting TV's from 37" all the way up to 63" or up to 175 lbs. This model features the capability to tilt the screen up to +15 degrees in order to reduce glare. With the lift n'lock feature it allows you to easily attach your flat panel TV to the base mount and with the sliding lateral on-wall adjustment option, you can position the TV as you need from left to right.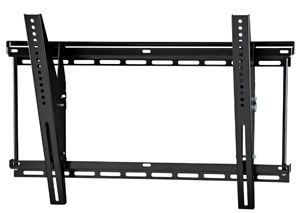 The mounting profile of this product is 2.7" and requires double studs for maximum support. The mounting pattern is Universal and Vesa 100x100 to 400x600. Installation went very smoothly, the included mount kit and the step by step installation guide provides all the vital steps on how to complete everything.
After finding 2 wood studs, the installation took a little more than 30 minutes. As with most installations, a drill, level, hammer, pencil mark and Philips screw driver was required. We found the WM1T175 on the web for as low as 59$, another great buy!

What we think

If we had to summarize these mounts in just a few words, I would say that the closest ones would be quality, easy step by step installation and affordability. We applaud V7 for their quality of construction and value. We award every single one of these products the Value Award.
V7 products are available exclusively through Ingram Micro's reseller/retailer network including Amazon, Newegg, and Buy.com

For more information on V7 Products
Ingram Micro V7